It's no secret that Utah has been the backdrop for a long list of movies and TV shows. Lagoon has also been the setting of shows that have been distributed nationally and beyond. This video shows clips from eight of the more widely known examples.
Here's breakdown of some of the movies and TV shows that were filmed at Lagoon…
Wide, Wide World
Season 2, Ep. 1: Song Of America
Original Broadcast: 16 Sep 1956
Lagoon Screen Time: unknown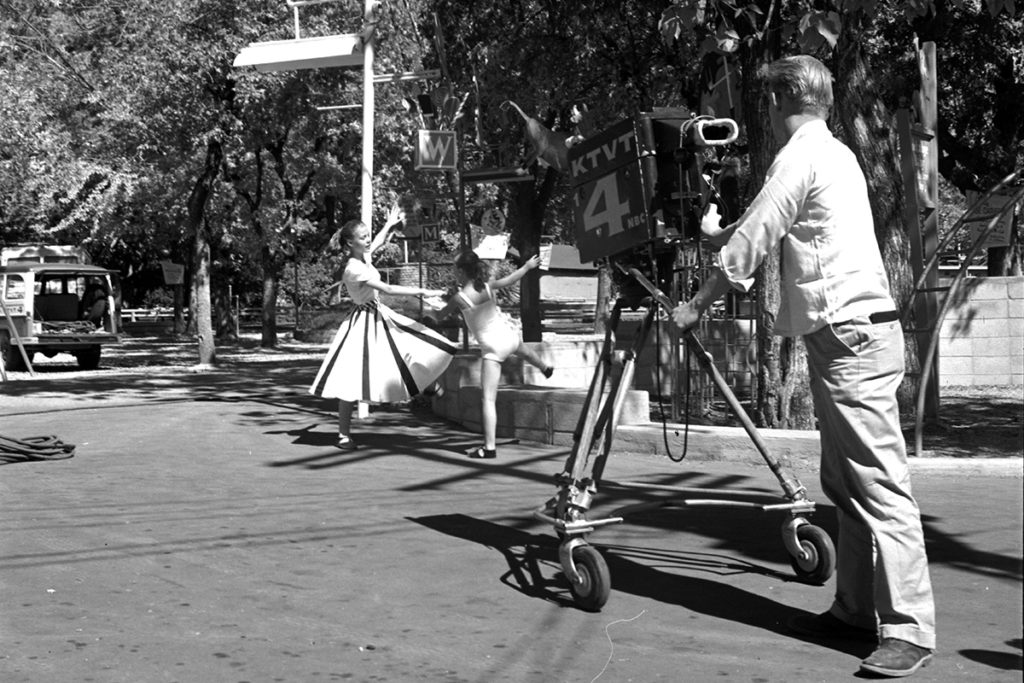 Wide, Wide World was a documentary series on NBC that featured a variety of scenes from around the world, usually broadcast live. One of the segments in this particular episode was a performance by dancers from the McCune School Of Music And Art in Salt Lake City. According to a synopsis, they enacted a dream sequence where the new Mother Gooseland area magically came to life.
Mirror, Mirror: You And Your Self Image
Released: 1969
Lagoon Screen Time: 3 min, 7 sec
This first film was produced by BYU for The Church Of Jesus Christ Of Latter-Day Saints. While it wasn't widely distributed like the other ones in this list, it's notable for its rare footage of the Haunted Shack and a brief glimpse of the Flying Swings. The pool scene appears to be a different pool, perhaps Springville. You can see the entire film here:
America Screams
Original Broadcast: 1978
Lagoon Screen Time: 2 min, 30 sec
Lagoon is one of many parks featured in the documentary – the first to be made about amusement parks and roller coasters. Hosted by Vincent Price, it debuted on PBS and was later edited down for a VHS release. Thanks to filmmaker Scott Campbell, additional footage of Lagoon that was cut from the VHS release has been made available to the Lagoon History Project and you can read more about it here.
Werewolf
Season 1, Ep. 27: Blind Luck
Filmed: 1987
Original Broadcast: 6 Mar 1988
Lagoon Screen Time: 5 min, 42 sec
Werewolf was one of the first series on the new Fox network after it went on the air in the late '80s. This episode follows a werewolf working at an amusement park as he helps a blind woman who is being taken advantage of by her boyfriend. Ocean View Amusement Park in Virginia was used for the establishing shots. Scenes were shot on the South Midway, in the Roller Coaster station and at Dracula's Castle. During the climax, the main character transforms into a werewolf while inside Dracula's Castle where the blind woman's boyfriend is chasing her down with a gun. Several props are visible inside that have since been removed or relocated to Terroride. All of the scenes at Lagoon were filmed at night and it looks like string lights were added to trees and buildings to help brighten things up.
Terror In The Family
Original Broadcast: 16 Apr 1996
Lagoon Screen Time: 7 min, 14 sec
Hilary Swank plays a troubled teen who meets up with her boyfriend at a closed amusement park (Lagoon). Most of the time they hang out on the Roller Coaster, but one scene takes place at Centennial Screamer. Produced by Hallmark, this TV movie originally aired on the Fox network.
In My Sister's Shadow
Original Broadcast: 1997
Lagoon Screen Time: 4 min, 6 sec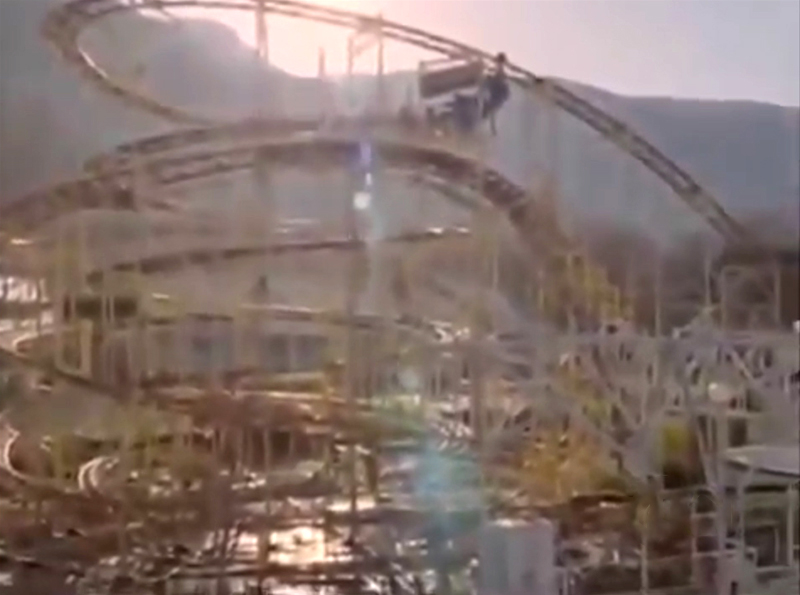 This made for TV movie debuted on CBS and starred Nancy McKeon (The Facts Of Life). The portion filmed at Lagoon includes views of Jet Star 2, Tilt-A-Whirl and Boomerang. Another scene later in the movie was filmed at Saltair.
Luck Of The Irish
Filmed: Fall 2000
Original Broadcast: 9 Mar 2001
Lagoon Screen Time: 5 min, 5 sec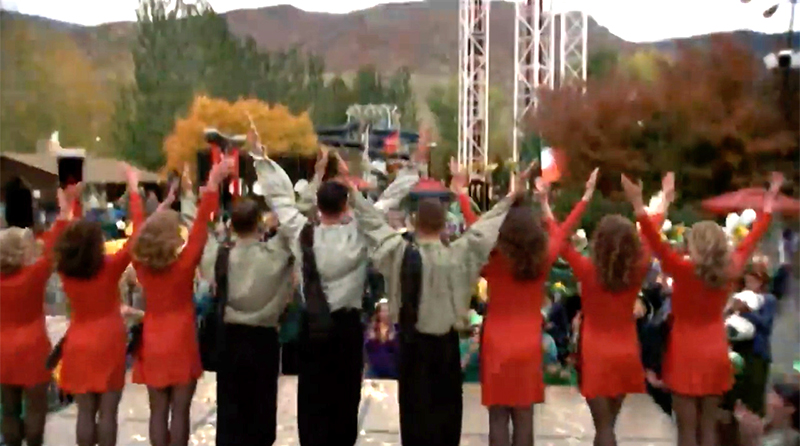 Luck Of The Irish is a Disney Channel original movie about a kid who finds out he's a leprechaun after involuntarily dancing along with Irish step dancers at a festival. The festival scene was filmed on the North Midway of Lagoon with a temporary stage placed in front of the entrance to Sky Scraper. Also visible in this scene are Samurai and The Rocket.
Wieners
Filmed: 2007
Released: 3 Jun 2008
Lagoon Screen Time: ~2 min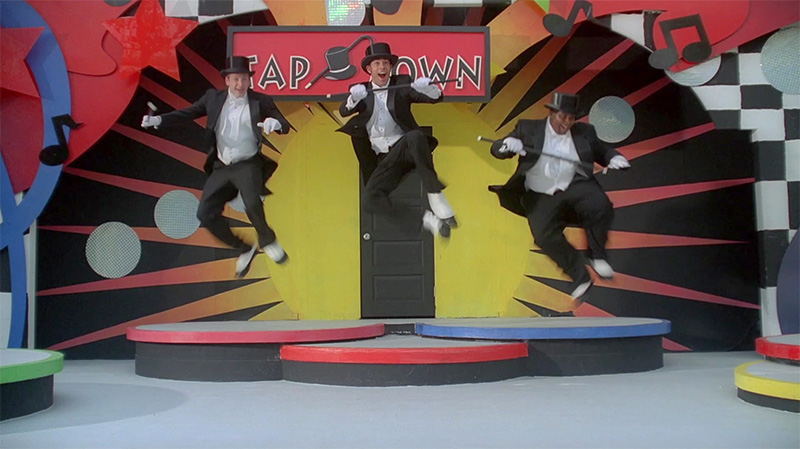 This movie follows a group of guys across the country in a hot dog truck belonging to the character played by Kenan Thompson (Saturday Night Live). When they stop to enjoy some time at Lagoon Ernie's Happy Friendship Town Resort & Amusement Park, a montage begins with scenes filmed at Lagoon's front entrance, Boomerang, Jet Star 2, Catapult and more. Other shots not filmed at Lagoon were also part of the montage.
Bert The Conqueror
Season 1, Ep. 1: Utah
Filmed: 2010
Original Broadcast: 16 Jun 2010
Lagoon Screen Time: 3 min, 16 sec
Utah was featured in the first episode of this series on the Travel Channel. Comedian Bert Kreischer tried out a family's backyard slingshot in Hobble Creek, Utah, the mountain coaster in Park City and Lagoon's Wicked and Sky Coaster rides.
The Aquabats! Super Show!
Season 2, Ep. 5: The AntiBats!
Filmed: Fall 2012
Original Broadcast: 29 Jun 2013
Lagoon Screen Time: 3 min, 16 sec
The Aquabats are a cartoony, superhero rock band in a series that originally aired on The Hub Network (now Discovery Family). In this episode, the group goes to Lagoon Mr. Bonkers Fun Land to have some fun while one member of the group searches for the girl of his dreams. Below is a music video made from the show's footage.
Christmas Land
Filmed: Nov 2015
Original Broadcast: 20 Dec 2015
Lagoon Screen Time: 15 min, 13 sec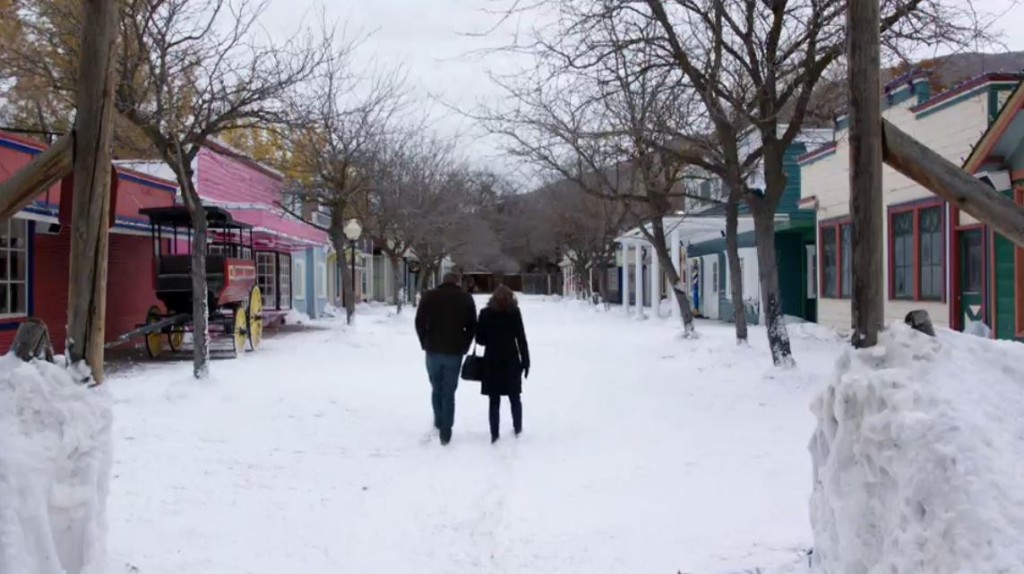 Christmas Land is one of the many holiday TV movies that the Hallmark Channel has become famous for. It's about a New York City businesswoman who inherits her grandma's Christmas village. Lagoon has more screen time here than possibly any other movie or TV show. Snow and Christmas decorations were brought in after the park closed for the season to transform Pioneer Village into Christmas Land and scenes were filmed all along Pioneer Village's Main Street, as well as inside the Ice Cream Parlor and the Bakery.
Andi Mack
Season 3, Ep. 12: The Ex Factor
Filmed: 2018
Original Broadcast: 22 Feb 2019
Lagoon Screen Time: 1 min, 34 sec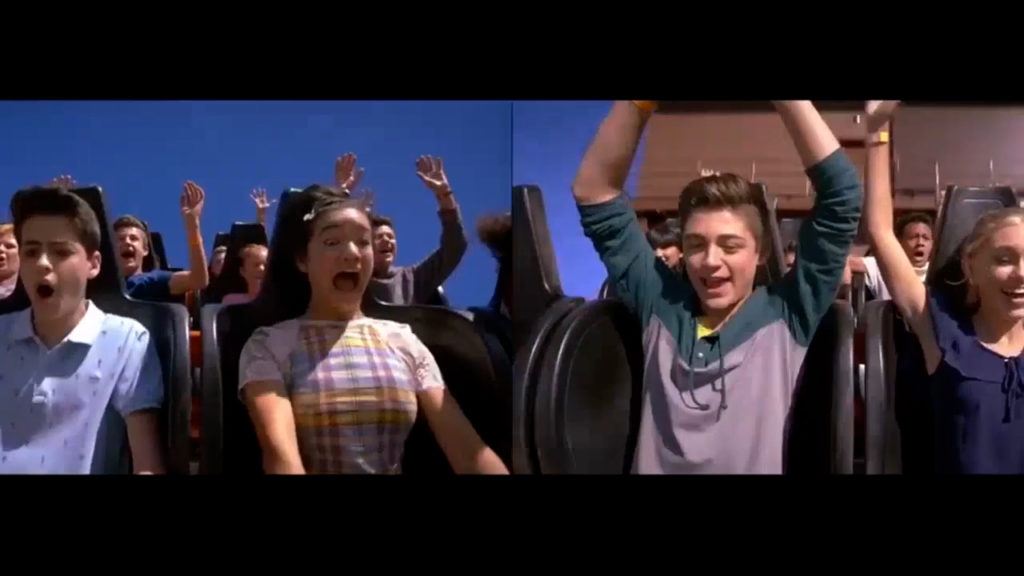 This episode of the Disney Channel teen drama series, follows Andi Mack and her friends to Lagoon Adrenaline City. Locations include Cannibal, Paratrooper, Sky Scraper and Honolulu Hot Dogs (redressed as a pretzel stand).
OTHER SHOWS
There are apparently even more shows that were filmed at the park, but little information can be found about them at the moment. Some believe parts of the '90s TV show Promised Land were filmed at Lagoon. It's also been said that MTV filmed an episode of one of their dance shows at Lagoon-A-Beach back in the early '90s. Lagoon used to hold dance parties at the water park around that time so it may have had something to do with that. If there are any other examples you know of, leave a comment below or contact me.

MORE FROM LHP