Terroride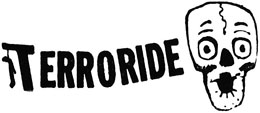 Opened: 1967
Manufactured By: Amusement Display Associates, Inc.
Terroride is the continuation of a long tradition of haunted dark rides and walk-throughs at Lagoon. Early in the 20th century, The Ghost Train opened just south of the Roller Coaster station. A large fire broke out in November 1953 which burned down the ride and most of the western half of the park's Midway. After the flames were extinguished, it was speculated that the starting point of the fire was either the chain house of the Roller Coaster or the back room of The Ghost Train.
The damaged rides and buildings were quickly replaced in time for the 1954 season including a new haunted attraction north of the Roller Coaster called the Spook House. Whether this was a ride or simply a walk-through is unknown at this point. After a little more than a decade, Terroride replaced the Spook House.
The new scenes, ride system and exterior were designed and manufactured by Bill Tracy and his company Amusement Display Associates, Inc. who also designed Dracula's Castle seven years later in 1974.
The Deseret News reported on the new ride with the following description:
"The ride looks like an old haunted castle into which the patron rides in an old car through the hall of horrors, the torture chamber of corpses, the quicksand corner, and more than 20 other spectacular and frightening scenes."
Many changes have been made to the ride since it opened in the late '60s. The audio is no longer played through the speakers on each individual car and some scenes have been replaced completely. Several new updates were made in 2007 including the Captain Barbosa skeleton animatronic. For many years, the mechanical gorilla from the second floor of the Haunted Shack was used in Terroride as a King Kong figure with a city skyline painted on the wall behind it. The gorilla was removed some time after the regular 2007 season. Ever since, it has appeared in the Psycho Dave's Junkyard spook alley during Frightmares.
The strange mural which was on the wall in the loading area was replaced in 2010 with trees painted on the wall, tree branches sticking up in front of the wall and an animated vulture which tells jokes to guests in the queue.
Dark rides have been a fundamental part of the amusement park experience for several decades. Many parks have lost their classic dark rides over the years and Lagoon is lucky to have two of them still in operation.
——————————————————————————————————————————————————-
Open up the Terroride Gallery
——————————————————————————————————————————————————-
LINKS
Gorilla Background Check, 8 Mar 2011
Missing Link Located in Hairy Heredity, 1 Jun 2011
——————————————————————————————————————————————————-
SOURCES
Lagoon Opens This Weekend. Deseret News, 23 March 1967.
What's New (March 2007), LagoonPark.com. Accessed using the Internet Wayback Machine, 13 Oct 2011.
Bahur, Wayne R. & Brandon M. Seidl. The Bill Tracy Project, BillTracyProject.com. Accessed 13 Oct 2011.
Whirlwind update and more. Email message to author, 20 Oct 2005.