Frightmares has been an increasingly popular Halloween event at Lagoon for over 20 years now. But before Frightmares, Lagoon tried out a short Christmas event.
In November 1994, possibly for the first time ever, Lagoon opened its doors to the public for a post-season holiday celebration. The three-day Pioneer Holiday was basically a community event hosted at Lagoon, similar to the way the Davis County Fair had been held there in previous years. Pioneer Village was the center of activity for the event and no rides were operating. Visitors parked at the historic rock church on Main Street in Farmington, then walked down 300 North to enter a back gate into the park.
It was just a few days after Halloween, but the first of many heavy snowfalls during a record-setting November hit the day before the celebration.
The event started Thursday with a craft boutique and luncheon at the Davis Pavilion. Admission to the craft boutique was free. On Friday night and throughout the day on Saturday, admission to the activities in Pioneer Village was $2 per person or $10 per family.
Guests could stop at the Bakery and grab a hot scone with honey butter, blueberry muffin, cookie, Navajo taco or a funnel cake then explore a variety of activities while listening to the Victorian Carolers from Centerville. The activities included:
Taffy-pulling, Santa's Post Office and crafts for kids
Indian storyteller Toker Timothy with his two wolves, Kodashaw & Trouble
Quilting bee in the old PVRR Train Station
Drawing for a Christmas quilt
Mountain man exhibits in a teepee
Spinning & weaving demonstrations
Holiday food booths
The craft boutique continued in the Davis Pavilion on Friday and Saturday where there was also a steady stream of live music provided by local performers. Here's a schedule of the entertainment line-up:
Friday, 4 November 1994
5:00pm-5:30pm – Christy Taylor, Miss Farmington
5:30pm-6:00pm – Analisa Semadeni, former Miss Farmington
6:00pm-7:00pm – High Priority (Smoot Family band) with High Desert
7:00pm-8:00pm – Ron Behunin Band
8:00pm-9:00pm – Farmington Chamber Ensemble
Saturday, 5 November 1994
10:00am-10:30am – Mike & Angela Page
10:30am-11:30am – Monte Williams & The Crazy Coyote Band
11:30am-12:00pm – Ester Tingey, fiddler
12:00pm-1:00pm – Mike Hansen, guitarist
1:00pm-2:00pm – Ruth Gatrell Singers
2:00pm-3:00pm – The Hay Day Cloggers
3:00pm-4:00pm – Chamberlin Family and
4:00pm-5:00pm – Cinnamon Creek Singers
5:00pm-7:00pm – The Catalyst Band with Joey Hansen
7:00pm-8:00pm – Cori Conners
The Christmas celebration returned to Pioneer Village for five more years. It would be much longer before Christmas decorations adorned the Village again, but it wasn't for a public event. After Lagoon closed for the 2015 season, Pioneer Village became Christmas Land for a Hallmark Channel movie of the same name.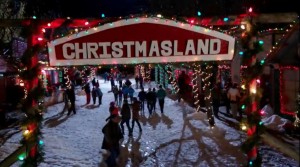 Did you attend the Pioneer Holiday event at Lagoon? Please share your memories by commenting below or send a message using the form on the Contact page.

more from lhp

SOURCES
Lagoon May Beat Record, Exceed 1 Million in '94. Deseret News, 7 Sep 1994 – Davis Edition.
Boren, Karen. Celebrate 'Pioneer Holiday' at Lagoon. Deseret News, 3 Nov 1994.
Lagoon pioneer fest through Saturday. Deseret News, 3-4 Nov 1994.