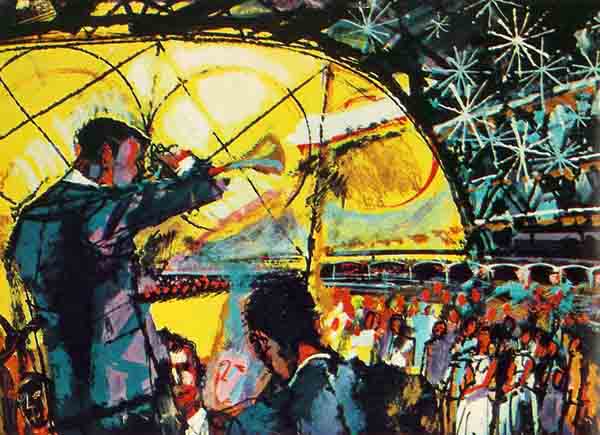 Lagoon has hosted hundreds of performances by popular musicians and entertainers over the decades, peaking with the shows held at the Patio Gardens in the 1950s and '60s. Those who experienced them in person usually have great memories from them and many of those who never got to the chance wish they could travel back in time. If only there were some recordings that could help us feel like we were there. Well, there is at least one concert recording from the Patio Gardens that has been floating around for some time now and is fairly easy to get a copy of.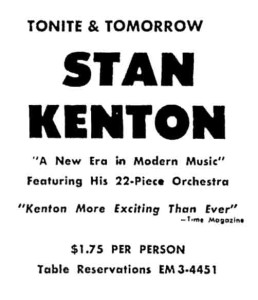 On a couple of warm, late August nights in 1962, Stan Kenton and his 22-piece orchestra filled the open-air pavilion with smooth, polished jazz music. During at least one of the shows, somebody was smart enough to put the live sounds on tape.
A Night At The Old Nugget
Released by Status Records¹, which specializes in recordings of jazz concerts of the mid-20th century, this recording from Lagoon's Patio Gardens is one of the many previously unreleased titles that the record label has made available on compact disc.
The instruments sound exceptionally clear and the chatting of musicians and Stan Kenton is audible between songs. The atmosphere conveys the intimate nature of the venue which many seem to recall. Fans of Stan Kenton and jazz music of that time period seem to agree that this particular mix of talented musicians were the best ever collected under Kenton's leadership. But even if you've never listened to the genre, it's worth giving this concert a listen to get an idea of what could be heard emanating from the northwest corner of Lagoon on summer nights about 50 years ago.
Cha Cha Sombrero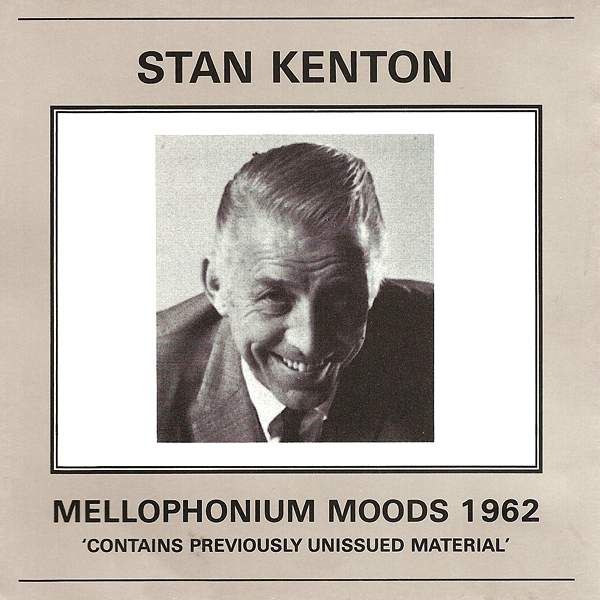 MORE FROM LHP

NOTES
1. The story behind Status Records is a bit confusing and more than I care to dig into for the purpose of this article. But from what I've found online, there are two different companies that released music under the Status Records label. The first was based in Bergenfield, New Jersey. It was an imprint of the larger Prestige Records, which specialized in jazz music, and was basically formed to release budget-priced albums. The second Status Records, which is responsible for this Stan Kenton album, seems to have been a revitalization of the old Status Records, but this time based in the United Kingdom. They have reissued many of the older titles in the Prestige, New Jazz and earlier Status catalogs on CD as well as issuing previously unreleased recordings like this Lagoon concert.

SOURCES
Lagoon newspaper ad. Deseret News, 24 Aug 1962.
Recordings. Charlie Mariano Tribute, accessed 3 Dec 2012.
Mellophonium Moods. Amazon.com, accessed 3 Dec 2012.
Labels: Status. RateYourMusic.com, accessed 8 Jan 2013.