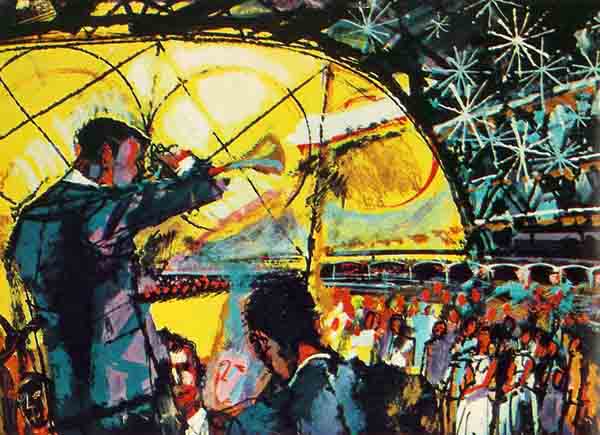 Lagoon has hosted hundreds of performances by popular musicians and entertainers over the decades, peaking with the shows held at the Patio Gardens in the 1950s and '60s. Those who experienced them in person often have great memories to share and many of those who never got to the chance wish they could go back in time to see it for themselves. If only there were some recordings that could help us feel like we were there. Fortunately, there are a few concert recordings from the Patio Gardens that have been floating around for some time now and they're fairly easy to add to your collection.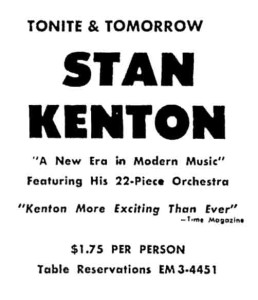 On a couple of warm August nights in 1962, Stan Kenton and his 22-piece orchestra filled the open-air ballroom at Lagoon with smooth, polished jazz music. On both nights, the shows were recorded, but weren't made available to the public until the '90s.
Released by Status Records¹, which specializes in recordings of jazz concerts of the mid-20th century, this recording from the Patio Gardens is one of the many previously unreleased titles that the record label has issued on compact disc.
But there are two CDs released by Status Records that claim to be recordings of Stan Kenton at Lagoon in 1962 – Mellophonium Moods and More Mellophonium Moods. The liner notes in the former state that it was recorded in March 1962 while the latter lists the dates as 24-25 August 1962, and specifies which tracks were from which night.
The problem is that Lagoon very rarely, if ever, held concerts in March. There's a possibility that it was at The Terrace, which was leased to Lagoon's management at the time, but there are no newspaper ads for a Stan Kenton concert anywhere in the area in March. Another possibility, if it was in March, is that the concert was given on short notice. There have been known to be fairly impromptu concerts at both Lagoon and The Terrace when a band happened to be going through (usually between California and Chicago or Denver or somewhere in the midwest).
One source says Mellophonium Moods was recorded on 24 August 1962, but doesn't go into any more detail. This would be possible since some of the songs on this album also appear on More Mellophonium Moods with a recording date of 25 August 1962. The list of performers are nearly identical, but have a few differences, most notably there are different vocalists featured on each CD. We know they performed on the 24th and 25th and that both CDs feel incomplete, but since the tracks on the CDs have been shuffled around, we have no way of knowing how they would have fit with each other, chronologically. Still, the recordings are of a good quality so at least we can enjoy them for what they are. Here's a couple of tracks from Mellophonium Moods.
A Night At The Old Nugget
Cha Cha Sombrero
The instruments sound exceptionally clear and the chatting of musicians and Stan Kenton is audible between songs. The atmosphere conveys the intimate nature of the venue which many seem to recall. Fans of Stan Kenton and jazz music of that time period seem to agree that this particular mix of talented musicians were the best ever collected under Kenton's leadership. But even if you've never listened to the genre, it's worth giving this concert a listen to get an idea of what could be heard emanating from the northwest corner of Lagoon on summer nights about 50 years ago.
More Mellophonium Moods (in chronological order)
| | FIRST NIGHT, 24 AUG 1962 | |
| --- | --- | --- |
| 1 | Warm Blue Stream | CD track 9 |
| 2 | A Lot Of Livin' To Do | CD track 10 |
| 3 | My One And Only | CD track 11 |
| 4 | Maria | CD track 12 |
| 5 | Time After Time | CD track 13 |
| 6 | Closing Medley | CD track 16 |
| 7 | Artistry In Rhythm | CD track 17 |
| | SECOND NIGHT, 25 AUG 1962 | |
| --- | --- | --- |
| 1 | Fly Me To The Moon | CD track 1 |
| 2 | A Foggy Day | CD track 2 |
| 3 | Misty | CD track 3 |
| 4 | You Stepped Out Of A Dream | CD track 4 |
| 5 | Reuben's Blues | CD track 5 |
| 6 | Magic Moment | CD track 6 |
| 7 | The Blues Story | CD track 7 |
| 8 | Easy To Love | CD track 8 |
| 9 | Love Walked In | CD track 14 |
| 10 | Like Someone In Love | CD track 15 |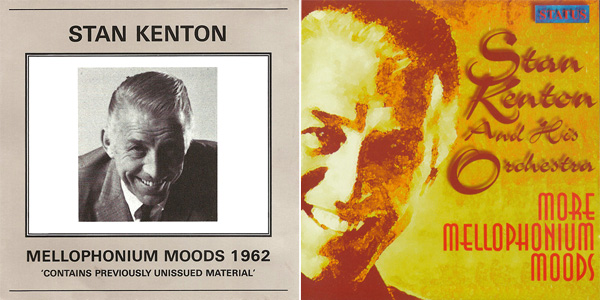 MORE FROM LHP

NOTES
1. The story behind Status Records is a bit confusing and more than I care to dig into for the purpose of this article. But from what I've found online, there are two different companies that released music under the Status Records label. The first was based in Bergenfield, New Jersey. It was an imprint of the larger Prestige Records, which specialized in jazz music, and was basically formed to release budget-priced albums. The second Status Records, which is responsible for this Stan Kenton album, seems to have been a revitalization of the old Status Records, but this time based in the United Kingdom. They have reissued many of the older titles in the Prestige, New Jazz and earlier Status catalogs on CD as well as issuing previously unreleased recordings like this Lagoon concert.

SOURCES
Lagoon newspaper ad. Deseret News, 24 Aug 1962.
Recordings. Charlie Mariano Tribute, accessed 3 Dec 2012.
Mellophonium Moods. Amazon.com, accessed 3 Dec 2012.
Labels: Status. RateYourMusic.com, accessed 8 Jan 2013.