In the wake of the post-World War II baby boom, kiddie parks were springing up all over the country in the 1950s. These parks were often simply a collection of rides, for kids only, placed near major highways or added to existing parks, swimming resorts and even drive-in movie theaters. The introduction of Disneyland in 1955 challenged the way amusement parks had been designed up to that time and park owners were quick to adapt to the trend of creating a more inviting atmosphere.
Of course, children were nothing new at Lagoon. A few smaller rides were available for them to ride since the park's early years. In the 1920s, a free playground was added with swings, teeter-totters, slides and even a small wading pool.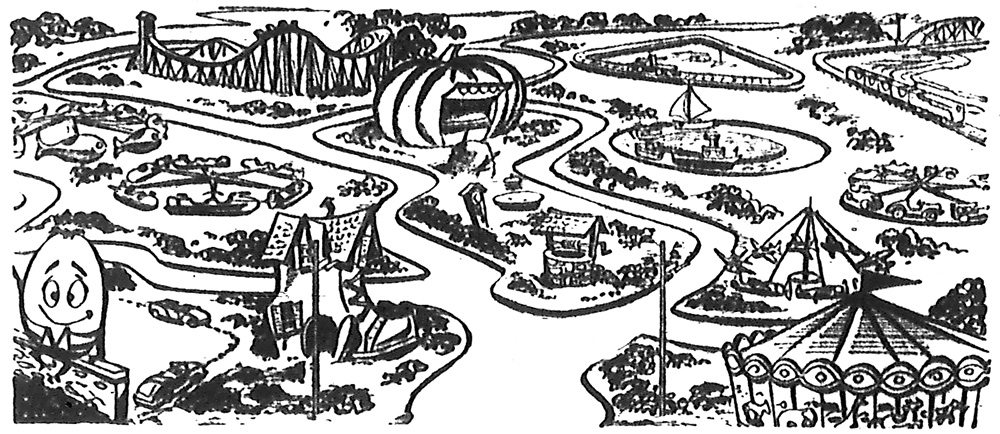 More children's rides were added around the late '40s and early '50s such as the Baby Boats and Autos (a small carousel with cars instead of horses). Then, Lagoon created an entire area for kids between the Midway and the Swimming Pool. A few pre-existing rides were accompanied by several new children's rides and decorated with signage and displays depicting familiar nursery rhymes. It opened as Mother Gooseland in 1956.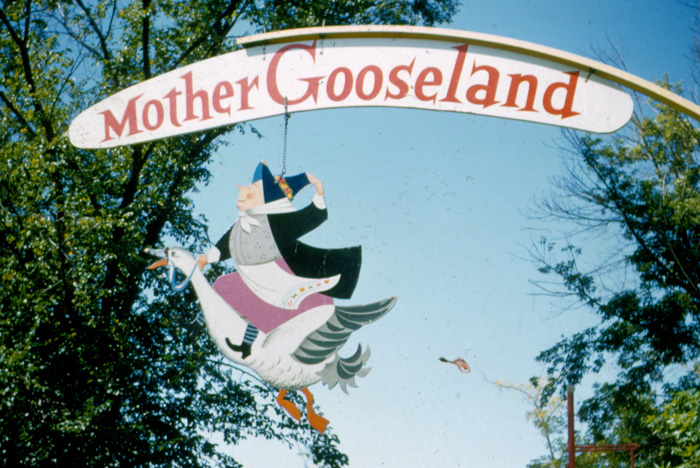 Initially, even the food offerings were geared toward kids. An article in the trade publication, The Billboard, explained how manager Robert Freed found a way to cater to smaller patrons in Mother Gooseland.
"…when it was decided to build the children's section of the park for this season, he began looking around for appropriate sized refreshments for toddlers. He had noted that often parents had to split portions with the youngsters or give them 'man-sized' amounts that over-filled the kiddies.

His search was rewarded.

Drinks…were a simple problem. Bob purchases six-ounce cups and fills them from regular bulk dispensers. Price: 6 cents.

The No. 40-size cone, with a small dipper, provides midget-sized ice cream cones that allows each toddler to have his own, but not too much. Price: 6 cents.

The hot dogs were the main problem. He talked to his regular meat distributor and found that they could -f or large enough orders – adjust the hot-dog-making machine to turn out dogs about the size of sausages. They come about 14 'dogs' to the pound.

Only one problem remained. Small dog on large bun was no solution, so Bob contacted the baker that sells him regular size buns. The baker said he could provide special buns to fit the dogs, and Bob was in business.

Hot dogs sell in Mother Gooseland for 14 cents, allowing a youngster to have a dog and a drink, or a dog and a cone for a total of 20 cents.

Bob said, 'Percentage-wise, we are as well off as on the big stuff after figuring our costs. The kids are happy, the parents are even happier.' "
Creative Playthings, a toy company which had entered into the playground industry not long before, was reportedly involved in the layout of Mother Gooseland. Messmore & Damon, a company specializing in stage and film props, store displays and dark ride features, was also in the business of making "kiddieland figures". They provided many of the original props found in Lagoon's dark rides. It's very likely they also built elements used in Mother Gooseland such as Peter's Pumpkin Shell, the Old Woman's Shoe or Humpty Dumpty.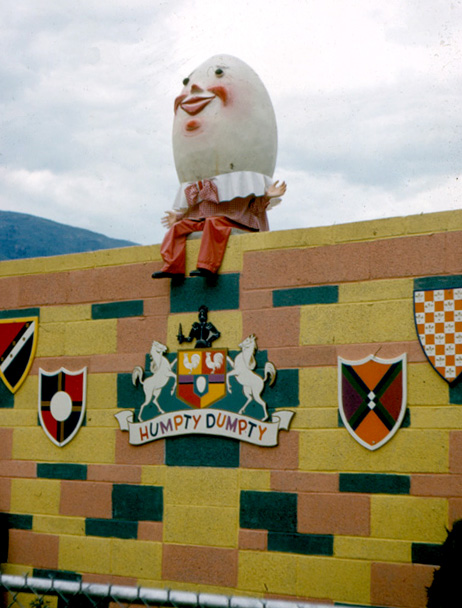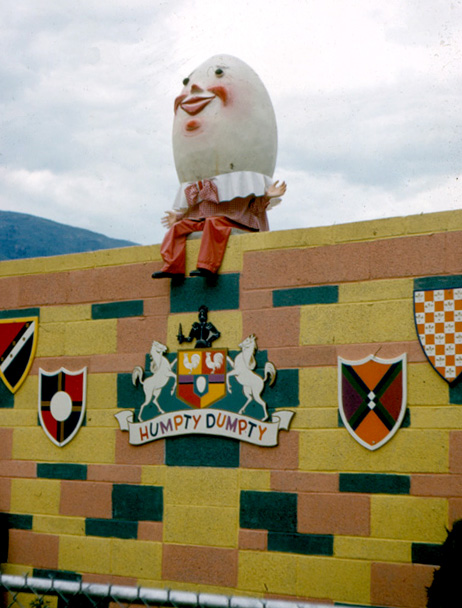 There were said to be fifteen Mother Goose displays introduced in 1956. Aside from those mentioned above, other nursery rhymes represented included Ding Dong Bell, Little Boy Blue, Old King Cole, Rock-A-Bye Baby, Baa Baa Black Sheep and Old Mother Hubbard. Photos from the '70s show a large mushroom similar to the new one built at the entrance of Ladybug Bop in 2006.
Mother Gooseland was introduced to television viewers across the United States on 16 September 1956. A segment on the show Wide, Wide World featured 100 dancers from the McCune School portraying a dream in which the park magically came to life. A couple of months later, park manager Robert Freed shared the segment at the annual convention of the National Association Of Amusement Parks, Pools And Beaches.
MOTHER GOOSELAND RIDES IN 1956
Airplanes (a.k.a. Kiddie Planes & Baby Planes)
Automobiles (a.k.a. Autos or Kiddie Autos)
Boats (later known as Kiddie Boats & Baby Boats)
Bulgy The Whale (new in 1956)
Hand Cars (new in 1956)
Kiddie Coaster (new in 1956)
Speedway (new in 1956, later named Speedway, Jr.)
Lakeshore Express (formerly named the Streamliner)
Sky Fighter (new in 1956)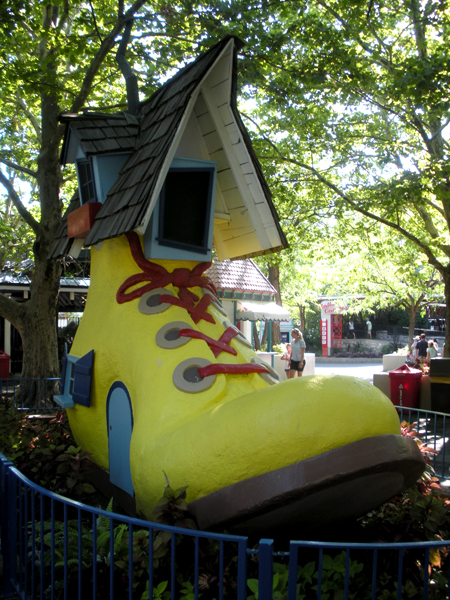 THE TRANSITION TO KIDDIELAND
Over the years, rides were relocated, removed or replaced. The following attractions were added during the next three decades:
Carousel Plaza, added in 1981, used to have a Mother Goose mural painted on the back wall that faced Mother Gooseland. An "all-new Mother Gooseland" was introduced in 1985 with the new Puff, the Little Fire Dragon, relocated rides and a reconfigured Speedway, Jr. track to allow for better circulation. The chain link fences around rides were replaced by new steel railings. By that time, most of the Mother Goose references disappeared and the area eventually became known as Kiddieland.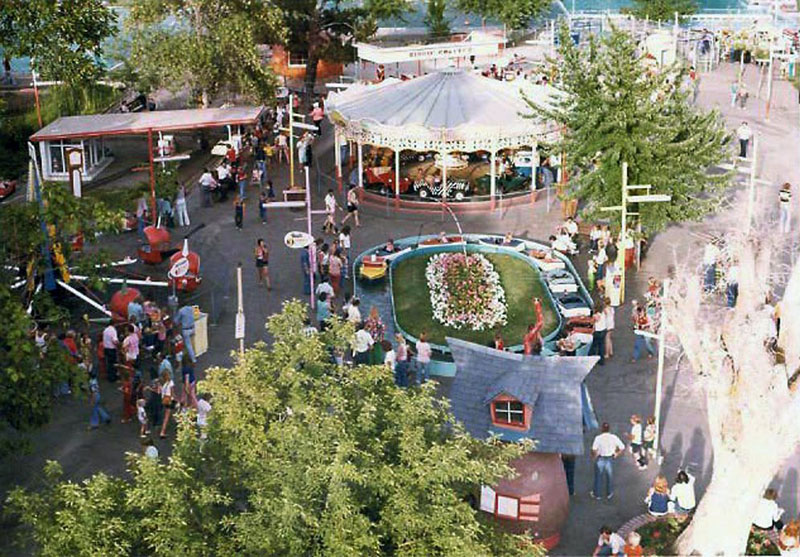 21ST CENTURY EXPANSION
Kiddieland remained mostly unchanged for almost 20 years until two new rides were added in 2004. In addition to new signs and decorations throughout the area, there was a new show for kids in Carousel Theater. Speedway, Jr.'s track layout was reconfigured to make room for Kontiki and The Dragonfly. The new rides, and each new Kiddieland ride thereafter, allowed parents to ride with their children, unlike most of the early rides. Also since 2004, landscaping and theme elements have been added at a level that hasn't been seen since the opening of Mother Gooseland in the '50s.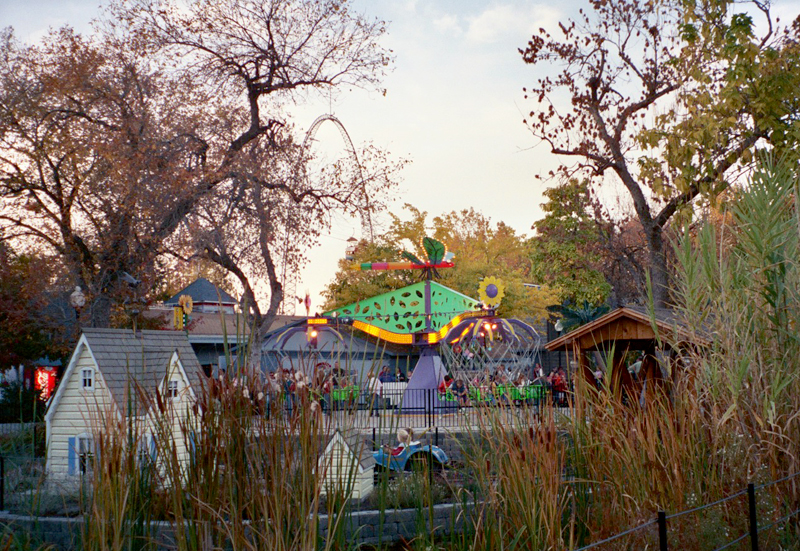 In 2006, Ladybug Bop and Dinosaur Drop were installed where Bulgy The Whale and Sky Fighter had been. Meanwhile, rides were being added north of Kiddieland that some may not consider kiddie rides, but are clearly more popular with kids than adults. These include The Bat, completed in 2005, and OdySea, which opened next to the Opera House in 2008.
Putter Around The Park, a miniature golf course, sat between the newer rides and the rest of Kiddieland. After the golf course closed in 2008, it opened up space to expand Kiddieland toward OdySea and The Bat.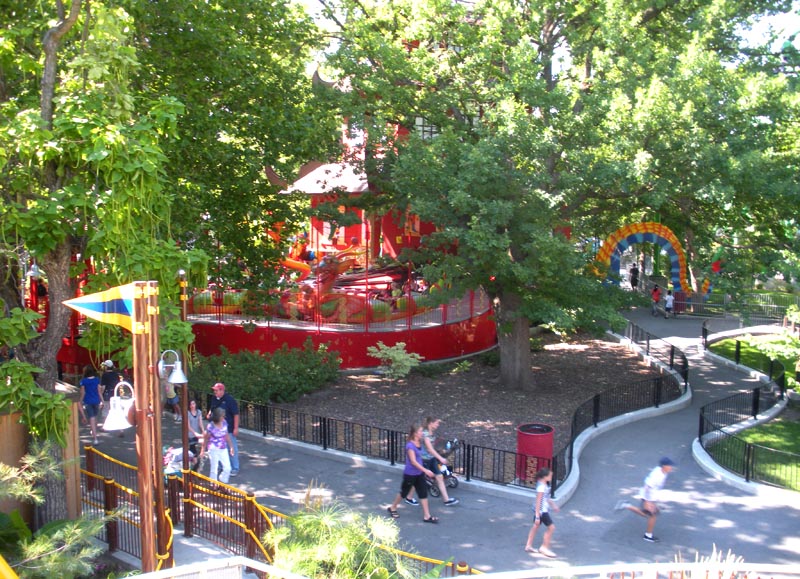 Jumping Dragon was the first ride to be built in the former mini golf course in 2009. Bombora, a small coaster designed in-house by Lagoon, was constructed in 2011 in part of what used to be the north end of Lagoon-A-Beach.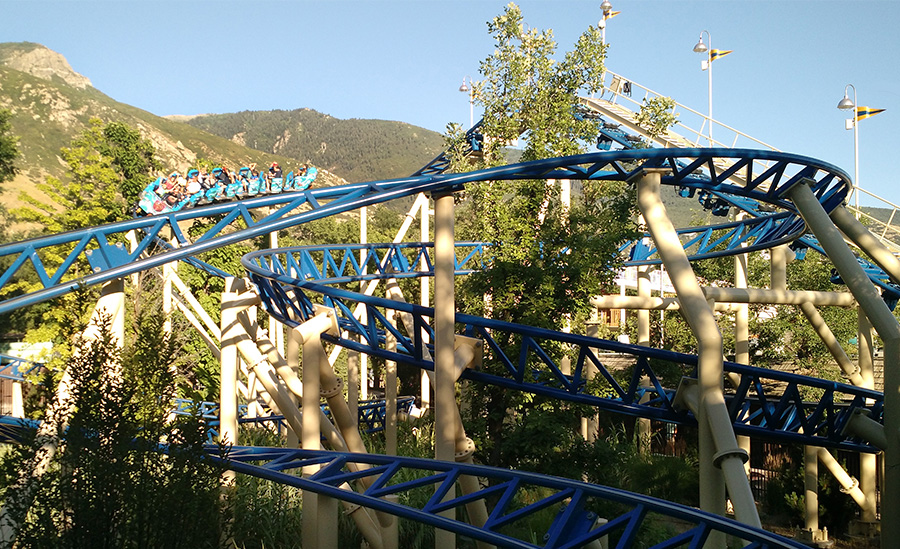 Tipsey Teacups and Red Rock Rally were placed west of Jumping Dragon in 2013, followed by Flying Tigers and Ruka Safari in 2017.
As Kiddieland expanded, a broader range of rides were introduced. Now there are more options for those who are too big for Moonraker, but not quite ready for Colossus. And with a mix of classic and modern rides, Kiddieland still holds memories for multiple generations of Lagoon guests.



MORE FROM LHP

SOURCES
The New Opportunity? The Billboard, 19 Feb 1955.
Novel Features Make Standout Of Freed's Salt Lake Kiddieland. The Billboard, 26 May 1956.
Pint-Sized Portions For Pint-Sized Patrons. The Billboard, 7 Jul 1956.
Wide World To Attempt Live Pickup From London. Deseret News, 15 Sep 1956.
Streamlined Convention Scheduled By NAAPB; Banquet, Expo Planned. The Billboard, 10 Nov 1956.
Malecs Add to Park As City Limits Near. The Billboard, 17 Mar 1958.
Park Adds Features Every Year. Deseret News, 26 May 1965.
Griffin, Al. Step Right Up, Folks! Regenery. Chicago, 1974.
Lincoln, Ivan M. Lagoon opens with focus on entertainment. Deseret News, 24 May 1985.
Ogata, Amy F. Creative Playthings: Educational Toys and Postwar American Culture. Winterthur Portfolio, Vol. 39 No. 2/3. The University Of Chicago Press, Chicago, 2004.
Great Moments. NAPHA.org, accessed 27 Aug 2012.
Wide Wide World. The Classic TV Archive, accessed 26 Mar 2021.
RE: Rides at Lagoon. Email to author from Alan C., 8 Feb 2011.