Opening Day: 3 April
Closing Day: 10 October
All-Day Ride Pass: $6.50
Parking: 75¢
GALLERY

As Americans ardently celebrated the bicentennial of the United States, Apple Computer went into business selling handmade computer kits and the NBA merged with the competing, but financially unstable ABA. Successful films from the year before, Jaws and Earthquake, were still playing in theaters along with new movies like Logan's Run and Bad News Bears. Peter Frampton's live album, Frampton Comes Alive, was the best-selling album with Dancing Queen and Bohemian Rhapsody topping the singles chart.
Early in the year, Farmington's City Council imposed a five percent amusement tax on Lagoon. Citing this and other problems with city officials, Lagoon attempted to de-annex itself from the city. The conflict continued for almost a year and a half when the district court declared the tax was unconstitutional while also rejecting Lagoon's request for de-annexation.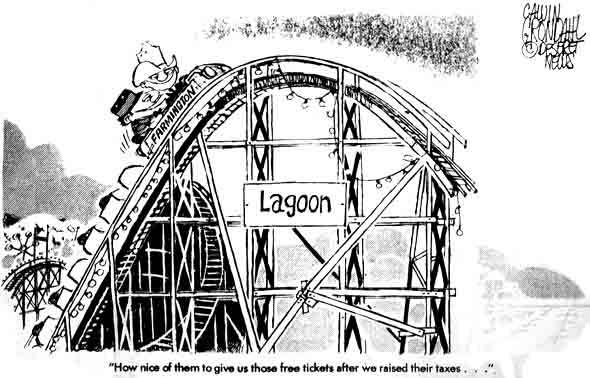 Meanwhile, work on relocating Pioneer Village from Salt Lake City was nearly complete and it was dedicated on Memorial Day. The new area added 15 acres and five new rides to the park (including the Log Flume which had already been open for one season).
Another exciting new addition in 1976 was the Jet Star 2, a Schwarzkopf steel coaster brought in from Expo '74 in Spokane, Washington. Weekend operation after Labor Day usually ended in September, but was extended two weekends into October. It was a big year that showed a family-owned amusement park could survive at a time when many of the country's parks were either operated by large corporations or being demolished.
ENTERTAINMENT
"The best entertainment value in Utahland" boasted a variety of entertainment in 1976. The popular Demolition Derby was held on Saturday nights beginning May 1st and changed to Friday nights on May 28th. Three different plays were featured in the Opera House from May to September. Irene was a particularly successful play that summer, featuring Anne Rowe and future Lagoon entertainment director, Ron Van Woerden. Daily entertainment during the regular season included the Small World Entertainers, "Stuntmen" in Pioneer Village and the return of the Lagoon Show Band. Sing Out America was a new show presented in the Village Green (north of Carriage Hall in Pioneer Village) by the same University of Utah Players who appeared in the Opera House. Their concerts showcased popular music in America's history, much like the Music USA shows that began in the '80s, including special selections for the Pioneer Day performance. Here's a list of other entertainment offerings during the season:
May 29 & 31 – Sing Out America (presented by Commercial Security Bank) in Pioneer Village – Sunday-Friday nights thereafter
May 31 – Fireworks / Pioneer Village Grand Opening
May 29 – Jun 26 – West Side Story at the Lagoon Opera House
Jul 1 – 31 – Irene at the Lagoon Opera House
Jul 3 – Rodeo
Jul 4-5 – Fireworks
Jul 24 – Weber River Wranglers / Two-Family Singers – Indian Dancing, Trick Riding
Jul 31 – Rodeo
Aug 5 – Sep 4 – Wonderful Town at the Lagoon Opera House
Sep 6 – Fireworks
EVENTS & PROMOTIONS
Like most seasons at Lagoon, there were plenty of deals and activities to attract guests. Free Bingo games were held on Sundays. The Pay One Price promotion was available on Sunday, Monday and Thursday during the season (except holidays) and on Sundays during the pre-season, further discounts were available from 7-11 stores. Saturday night was Date Night when guys could take their dates on any ride with them for the price of one with a date card from the park office. Other events and promotions during 1976 included the following:
Apr 16 – Easter Bunny Party ("Ticket for 10 free rides given to everyone at Auto Gate – Drawing for free plush Easter Bunnies every half hour")
Apr 24-25 – KALL & KUTV's Spring Bargain Spree ("10¢ on most all rides")
May 9 – Mother's Day ("Mothers ride free on all Lagoon rides when accompanied by a child")
May 28-31 – "Ride all the rides you can for 99¢ an hour"
May 31 – Pioneer Village Grand Opening, 11 a.m.
Jun 11 – Deseret News Birthday Party
Jul 5 – Salt Lake Tribune's Old-Fashioned 4th ("$5,000 in Lagoon ride tickets given away before 1 p.m. – free entertainment in Pioneer Village – 21 free bicycles given away, bike racing, aerial acts, antique cars, contests and band concerts")
Jul 24 – Square Dancing in Pioneer Pavilion, special entertainment
Jul 31-Aug 1 – Art Fair 1976, 1-9pm in Pioneer Village ("Sponsored by the Salt Lake Art Center Guild")
Aug 17-18 – KSL-TV Dime Days ("On ALL Rides – 2pm 'til closing")
Aug 19-21 – Davis County Fair
Sep 6 – Labor Day Treasure Chest ("$2500.00 cash given away absolutely free")
Sep 25-26 / Oct 2-3 / Oct 9-10 – Carload Special ($12 per carload, limit of 10 persons per vehicle, includes parking and admission on all rides)
RIDES & ATTRACTIONS
Baby Boats
Kiddie Planes?
Lagoon Miniature Railroad
Penny Arcade
Swimming Pool
Wild Kingdom Train

MORE FROM LHP



SOURCES
New Jet Ride set at Lagoon. Deseret News, 17 Mar 1976.
Lagoon tax is unfair. Deseret News, 21 May 1976.
Annexation valid? The Lagoon Issue. Deseret News, 21 May 1976.
Pioneer Village events. Deseret News, 24 Jul 1976.
Wade, Pam. Lagoon argues against city ties. Deseret News, 27 Jun 1977.
Wade, Pam. Lagoon wins tax battle. Deseret News, 11 Jul 1977.
Great Moments. National Amusement Park Historical Association, accessed 13 Aug 2013.