Opening Day: 4 April
Closing Day: 12 October
All-Day Ride Pass: $8.50
Parking: $1.00
GALLERY

It was the year when Mt. St. Helens blew its top and the 'empire' struck back. The beginning of a new decade also brought with it the debut of Pac-Man, heavy metal band Iron Maiden and CNN – the first 24-hour cable news channel.
In Utah, 1980 saw the grand opening of the Crossroads Plaza in downtown Salt Lake and an outdoor roller disco in Kearns. The communities of Granger, Hunter and Redwood were incorporated as West Valley City and high summer winds ripped up copper sheathing on the dome of the state capitol building.
Things were changing in the amusement industry as well. The common practice of purchasing tickets to use toward individual rides was being phased out. After the pay-one-price system was implemented at Six Flags Over Texas in the '60s, more and more parks gradually began to follow that trend.
Lagoon introduced a new admission policy in 1980. It required every guest who entered the park to buy a minimum of $2 worth of tickets or buy an all-day ride pass. Senior citizens over 60 and children under 3 could still enter for free.
It wasn't the first time pay-one-price tickets were available at Lagoon. The option was advertised as early as 1968 and even earlier than that there were deals on special occasions that allowed guests to pay one price for most or all rides. Around 1975, all-day ride passes could be purchased for $5.75. On Sundays and Mondays the price was $4.50 (or only $3.50 if you had a special discount coupon from local 7-11 stores).
A new entrance building was built to help manage the new ticketing system that year (the same structure that's in use today). Also new in 1980 was the Tidal Wave swinging pirate ship on Lagoon Lake, north of the Rockets. It was installed where the Water Skeeters dock had been since 1971 so a new dock was built to the east, on the other side of the train tunnel.
ENTERTAINMENT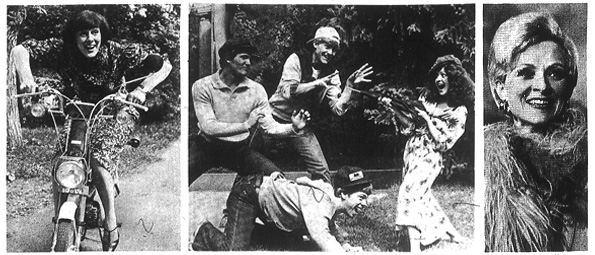 It had been about a decade since popular bands were regularly appearing at Lagoon's Patio Gardens. Despite that fact, entertainment options were plentiful at Lagoon. In the 1980 season, regular entertainment included bands like Cambridge playing contemporary soft rock hits on a small stage just inside the entrance. The Opera House had three different plays running for about a month each during the regular season. Of course there was also the popular Lagoon Show Band and on occasion, clowns, magicians and mimes could be found roaming the Midway.
EVENTS & PROMOTIONS
Newspaper ads announced a variety of special events throughout the season. Hi-Land Dairy sponsored a 2 for 1 date night deal on Saturday nights after 7pm. The Early Bird Bonus provided an All-Day Ride Pass for only $6 before 1:30pm on certain days. The same price was available with a Coke discount on Sundays & Mondays. Free Bingo games were held two nights a week during the regular season. Coca-Cola sponsored a multitude of events including visits from the Coca-Cola Droid. This was a four-foot-tall robot that looked like a mix between R2-D2 from Star Wars and a Coke can. About 275 of these were made available to Coca-Cola bottlers nationwide for promotional use at places like grocery stores, local events and the 1980 Winter Olympics in New York.
Here's a list of some of the promotional events that took place at Lagoon in 1980:
Apr 5 – Mello-Yello Balloon
Apr 6 – Mello-Yello Balloon / The Coke Droid / Easter Bunny Party
Apr 12-13 – Coke Kite Flight (free kites to first 500 visitors each day)
Apr 19-20 – KUTV & KALL's Spring Bargain Spree (most rides 20¢)
Apr 26 – Coke Frisbee Throw / Sunderland-Arbogast Freestyle Demonstration Team
May 11 – Mother's Day (Mother's ride free with child – Free photos courtesy of Inkley's & Polaroid)
Memorial Day Weekend – Ride by the hour, 99¢ per hour
May 29-Jun 20 – Free Rides for A's & B's (Bring your report card to Lagoon for up to 8 free rides)
Jun 6 – KSRP Duck
Jun 7 – The Coke Droid / KCPX Giant Jell-O Jump ("Win A Mini-Car!")
Jun 15 – Father's Day (Father's ride free with child – Free photos courtesy of Inkley's & Polaroid)
Jun 21 – The Coke Droid
Jun 26 – KSL-TV Double Dime Day (all rides 20¢)
Jun 28 – The Coke Droid
Jul 4 – Salt Lake Tribune's Old-Fashioned 4th Of July (Free Rodeo, Fireworks)
Jul 5 – American Cancer Society Disco, 9pm-midnight in the Davis Pavilion
Jul 24 – Pioneer Day (Country Fiddlers, Demolition Derby Invitational, Fireworks sponsored by KSL & Lagoon)
Aug 28-29 – 2 For 1 Days (2 All-Day Ride Passes, including Swimming, for the price of 1)
Sep 1 – Labor Day (All-Day Ride Pass only $6 before 1:30)
Sep 27 – 2 for 1 special
Oct 11-12 – Carload special (Free parking & unlimited rides for only $17.95 per carload – good for up to 10 people)
RIDES & ATTRACTIONS
Baby Boats
Game Time
Kiddie Planes?
Lagoon Miniature Railroad
Wild Kingdom Train
VIDEOS
Footage of Pioneer Village in 1980, filmed early in the spring by Joseph L. Hatch and narrated by Lagoon marketing director Dick Andrew.
A news clip from KSL about Lagoon's Show Band from 1980.

MORE FROM LHP

SOURCES & NEWS ARTICLES FROM 1980
Wildlife group to meet. Deseret News, 9 Feb 1980.
Lagoon raises prices, but…. Deseret News, 12 Apr 1980.
Lagoon to open for the season. Deseret News, 22 May 1980.
Lagoon Opera House to open. Deseret News, 24 May 1980.
$300 taken from Lagoon. Deseret News, 5 Aug 1980.
Wiseman, K. G. Lagoon didn't break word. Deseret News, 6 Aug 1980.
Italians feast, celebrate at Lagoon. Deseret News, 11 Aug 1980.
Home, mind are packed with vivid memories. Deseret News, 13 Aug 1980.
Director earns Freed award. Deseret News, 27 Aug 1980.
Vilmur, Pete. Have a Cobot and a Smile. StarWars.com, accessed 7 Jun 2006.