Opening Day: 19 April
Closing Day: 31 October
Adult All-Day Ride Pass: $25.95
Parking: $5
On the first day of the pre-season in mid-April, Lagoon opened its largest and most expensive ride to date – Rattlesnake Rapids. The ride was part of a large expansion of Pioneer Village which also included a plaza with the Peddler's Place souvenir stand, Rising Waters game and later, Rattlesnake Grub. Other additions to the park in 1997 were the Uintah and Wasatch picnic terraces, which took the names of two former terraces built in the 1960s. The video below shows what the park looked and sounded like during a slow day in May. Particularly noticeable are the barren surroundings of Rattlesnake Rapids before landscaping was completed.
After the park closed for the season, a scene for a TV movie called In My Sister's Shadow was filmed on the North Midway. Pioneer Village was opened for a few days in November to host Farmington's annual Pioneer Christmas celebration. The following month, Lagoon announced the new ride for 1998 – a new Wild Mouse coaster to replace the wooden version which had been gone for almost a decade.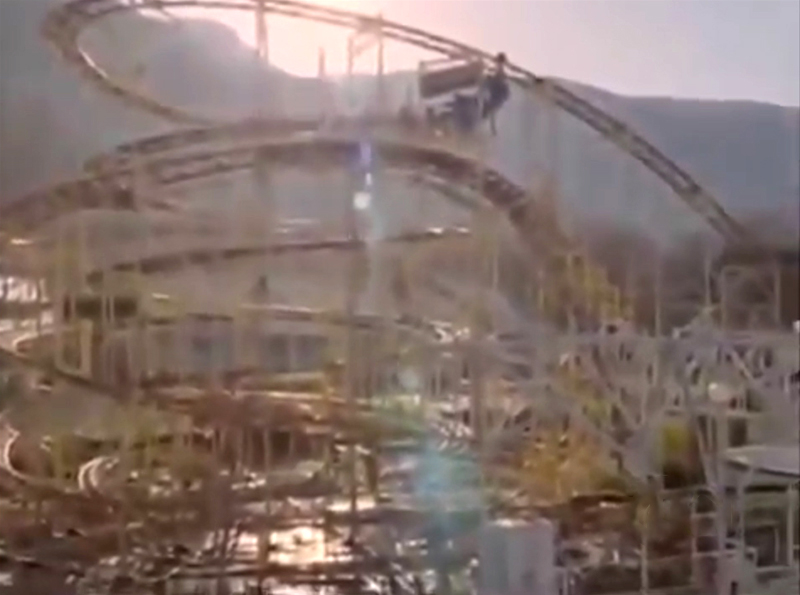 ENTERTAINMENT
CAROUSEL THEATER
Roc To The Top
LAGOON MUSIC THEATRE
Hollywood Nites
TIMELINE
19 Apr – Pre-season opening / Rattlesnake Rapids opens
24 May – Regular season begins
4 Jul – 4th Of July – Fireworks
24 Jul – Pioneer Day – Fireworks
24 Aug – End of daily operation
1 Sep – Open for Labor Day
11 Sep – Roc To The Top show performed at Utah State Fair
2 Oct – Frightmares opens, Thu-Sat until Halloween
31 Oct – Halloween / Final day of 1997 season
13-15 Nov – Farmington City's Pioneer Christmas
5 Dec – Wild Mouse announced as the new ride for 1998
RIDES & ATTRACTIONS
Baby Boats
Carousel Plaza
Carousel Theater
Coca-Cola Plaza
Game Time
Wild Kingdom Train
1997 BROCHURE
1997 GUIDE MAP


MORE FROM LHP